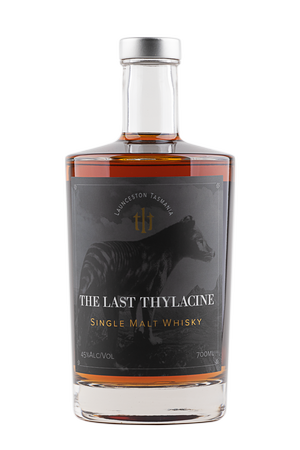 The Last Thylacine Batch 2
The Last Thylacine - Tasmanian Single Malt Whisky
Batch 2, released February 2021
Pale amber in colour, this richly flavoured whisky was distilled from unpeated Tasmanian malted barley and heavily peated Scottish malt.
Small cask aged; it was matured in locally coopered French oak tawny casks (Australian-style port). Carefully selected peated and unpeated casks have been married together to produce a well-rounded single malt with depth of character.
On the nose, sweeter notes from the tawny casks compliment the earthy peated malt barley. A light oiliness coats the palate, and mild smokiness is balanced by flavours of fruit, port and spice. The finish is smooth and pleasant, with lingering sweet peaty notes.
45% Alc./Vol.
Non chill filtered.
700mls