20 June 2017 | Nine More Ways, Ninth Island | Kreglinger Media
Nine More Ways: Ninth Island Mulled Wine
Chef April from the Pipers Brook Cellar Door has given us her secret recipe for Mulled Wine – And IT'S DELICIOUS.
Ninth Island Pinot Noir is the perfect wine to compliment the aromatic spices and sweetness of a properly brewed mulled wine. In just a few simple steps, and with the right ingredients, you'll have the winter lover's favourite drink toasting your hands. We estimate this recipe will take about 30 minutes to make, so jump in and give it a go! Whether you're in the Tasmanian Winter or on the mainland, we have a feeling you're going to need this recipe...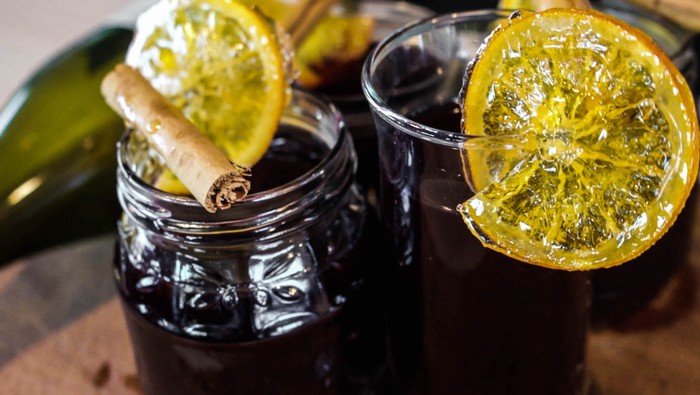 You Will Need
2 Bottles Ninth Island Pinot Noir
2 Oranges 1 Lemon
1 Lime 12 Whole Cloves
200g Sugar 1 Cinnamon Stick (plus extra for garnishing)
2 Bay Leaves 1 whole nut meg
1 Vanilla Pod 2 Star Anise
Recipe
Stud one of the oranges with the cloves and place it into a small pot.
Pour enough Ninth Island Pinot Noir to cover the orange (no more than a bottle).
Juice the remaining orange, lemon and lime and add this to the pot.
Slice the vanilla pod length ways and add ½ the pod, the bay leaves, sugar and cinnamon to the mixture.
Shave ¼ of the grated nutmeg with a grater and sprinkle it in.
Bring the wine slowly to the boil. Once boiling, reduce the heat and simmer for around 5 minutes. This will give plenty of time to infuse the wine and develop the beautiful aromatics. Allow to cool for a few minutes.
Add the remaining wine (saving one glass for yourself of course!) along with the star anise.
Simmer on a low heat for a further 5 mins. TIP: Don't let it boil or you'll lose all the booze!
Ladle the mulled wine into heat proof glasses, garnish with a cinnamon stick and fruit of your choice.
Voilà! Enjoy your mulled wine and don't forget that it tastes better when you share it with friends.
To get yourself started you can order your Ninth Island Pinot Noir here:
Ninth Island is very proud of the wine we produce, made from the earth with the taste of Tasmania. But sometimes you just want something a little different. Nine more ways is all about finding different ways for you to use our wine, so you can pull out all the stops at your next dinner party.
Comments
Commenting has been turned off.